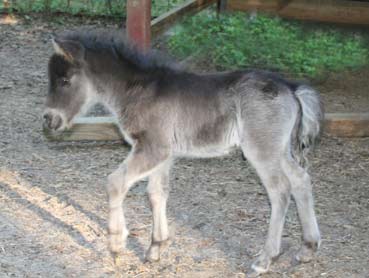 Picture above taken at 13 days of age.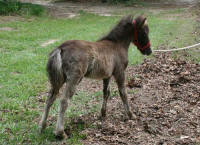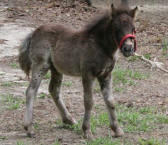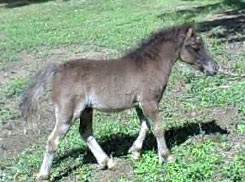 Only Cherokees Night Train
Pictures above taken at 3 months of age.
Colt born 4-27-07 Wow! what a nice neck and topline! Very upright! 21" day after birth. Gorgeous dishy head with blue eyes.

Update...as of July 21 his eyes are still blue.
Night Train is out Bowens RRR Sugar Bey B Wenona, my Appaloosa Orion bred mare who is out of Little Americas Daffy of LHH and by Little Americas Tex Two Timer (shown below)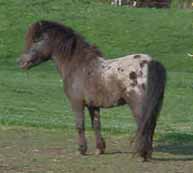 Grandsire on bottom: Little Americas Tex Two Timer -By Little Americas Sesquicentennial Tex By Xenon Light Van't Huttenest By Orion Light Van't Huttenest.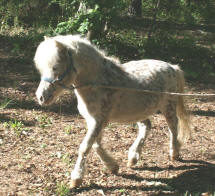 Night Trains Sire: Dancing Cloud Cherokee Star
Click Here to Enlarge above photo to see this Awesome little Stallion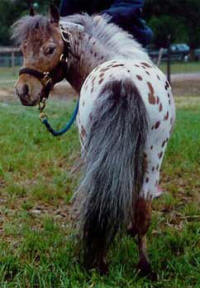 Grandsire on top: Grays Loud and Proud By Shadow Oaks Cock Robin By Chianti
Night Train is AMHA PQ & AMHR (pending)
Click Here for his Dams pedigree.
Click Here for his Sires pedigree.
Night Train is a refined colt - extreme in his leg to body ratio. He is pure animation and will take your breath away watching him out with his Dam. He has Beautiful BLUE Appaloosa characteristic eyes and mottling, his coat may color later and it may not. His full brother is coloring now as a yearling.
Night Train is a "little horse" ....No chunky, big boned legs that are the same length as his body in this boys future...he will Show if that is something you are looking for, and his type is what is winning in the ring today.
If you are not into showing he'll grace your pasture with his beauty while maturing into what I think would be an awesome sire, for this reason I'll offer him intact as of now.
If you are more interested in looking for a show gelding, or simply a loving pet here's your boy, you'll get the best of both worlds. Nothing pet quality or cull about him. He IS correct all around....bite, legs, testicles. Sire and Dam are also correct and are on the premises for inspection.
Thank you for your consideration. Please look at my sale page for additional horses for sale.... if you see one you like that is not on my sales page do not hesitate to make me an offer, I'll consider all offers.
If you are in Georgia, or inclined to make a trip - come see me! I'd Love to show you my horses.
<- BACK