---
Dancing Cloud Cherokee Star 30.50" AMHA -AMHR
Near Leopard Bay Appaloosa
LP/lp | PATN1/patn1 | Agouti | Splash.
NO Silver - NO Gray - NO Varnish
photos taken 6.30.2008 CLICK TO ENLARGE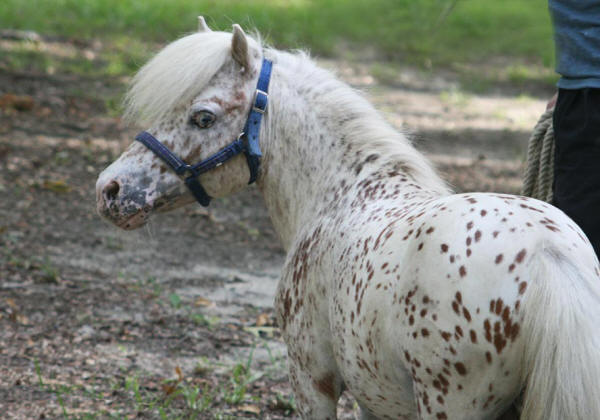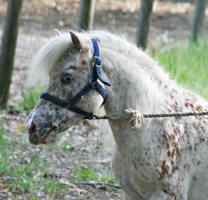 Cherokee was not born a solid that roaned out, he was born with a large white spotted blanket. He has been confirmed to carry both LP/lp AND PATN/patn - the genes needed to produce color patterns.
NO Silver - NO Gray - NO Varnish
---
CLICK HERE FOR CHEROKEES EXTENDED PEDIGREE
Cherokee has one of the most beautiful heads I've seen on a miniature appaloosa and he passes it on to his get, along with good length of leg which makes for a good leg to body ratio.. all packaged in a under 34" horse.
Cherokees face is finely cut, with good width between his ultra large crystal blue eyes, additionally he possesses a nicely defined jaw...something usually lacking on a great many miniatures and his crowning glory....his tight tiny ears.
Cherokee is balanced and very smooth bodied with a nice shoulder giving him good fluid movement.
His legs are straight, his bite is good...he's just a beautiful little horse but look closely... with his excellent topline, nice tailset, and beautiful arching neck, which blends into a very tight and clean throatlatch, Cherokee is also the epitome of the halter horse. He is light of bone, not the fragile refinement winning in today's ring but he is not old timey heavy boned...nothing old fashioned about this boy, as a matter of fact his look was before it's time..... timeless quality which he is proven to replicate in his foals who are even lighter boned and more refined than him.
Cherokee is also very good minded, he hand or pasture breeds and is a joy on the lead.
---